It's the holidays and while many traditions have entered into the realm of the universal, there are some that undoubtedly are only known to the families and friends who created and maintain them. One of the most famous is of course Festivus, a strange secular tradition created by Seinfeld writer Dan O'Keefe's father Daniel. It is an unusual example as random stories from Seinfeld writers' personal lives often ended up as plots on the show, but it makes you think how many other family-specific traditions exist out there and how many might gain wide-spread popularity if they were known. I'm sure every family has at least one; I thought I'd share a couple from my family:
Christmas Donuts: This is the biggest one in the Castro family. My maternal grandfather is a retired country musician who traveled extensively during his career (my mom told me a story of how a BeeGee was once her baby sitter at a bar). Due to his hectic traveling the family never knew where they would be or be during the holidays and developed a tradition of stopping and getting everyone donuts for a treat on Christmas morning. Even after the traveling stopped Christmas donuts continued, and my mom carried into my Christmases growing up. We used to get up painfully early on Christmas Eve, drive to Shipley's Donuts, buy an ungodly amount of donuts, and put them in the fridge until Christmas. One year we decided early that no one needed donuts and chose to not get them… Then Christmas Eve afternoon we decided the tradition couldn't die. We went to an absolutely packed H.G. Hills store, got bags of cheap Kruellers, and had those the next day instead. Even though I don't have Christmas breakfast with the family now I still get Christmas Donuts. I guarantee sometime before 6AM Christmas Eve morning I'll be driving to the nearest Shipley's to get some donuts…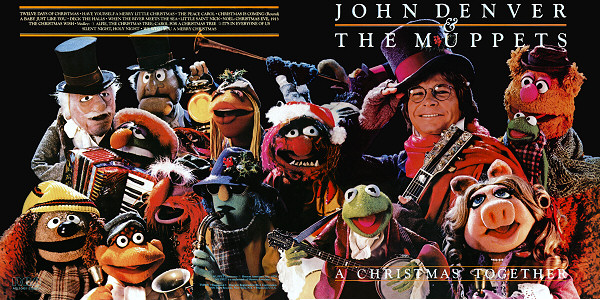 John Denver and the Muppets: A Christmas Together: Like most families the actual present opening for a couple kids and parents on Christmas took considerable time. My mom decided to make it an annual tradition to put in a cassette tape of the John Denver/Muppets Christmas album A Christmas Together while we opened presents. Even skipping the slow/sentimental ones it would often play through a couple times during the morning. It's still not Christmas until Animal shouts "Run Run Reindeer!" and Miss Piggy becomes dramatically offended at the misunderstood lyrics of "Christmas is Coming" ("Piggy pudding?!")
A Chamorro Buffet: Most people will have Turkey, dressing, gravy, potatoes, and ham on Christmas. Essentially Thanksgiving again. I can't remember ever having that for Christmas. From the earliest holidays I can remember my dad always made the feast food from Guam. Kelaguen, Lumpia, charcoal BBQ ribs, chicken, and steak. I'd take it over any turkey or ham any day. He always makes enough that it'll last a few days. Everyone eats their fill then eats their fill for about three days afterward…
Framily Traditions: Of course the modern family extends well beyond relatives. My RevPub partner and I have a number of annual traditions we do to celebrate the holidays. There's the annual shopping day, which once would often start at 8 in the morning and end around 8 at night and the annual viewing of Scrooged. All of my friends also typically do individual Xmas exchanges as well. Just stopping by around the holidays to see what weird random stuff we found we thought we'd all like.
We here at RevPub wish everyone a happy holiday season and we hope you enjoy all of your family holiday traditions. You never know, one may end up as a storyline on a sitcom one day!